| | |
| --- | --- |
| Posted on July 31, 2019 at 1:25 PM | |
UPDATE 8/1/19:
*Food, snack and water tent will be set up to the left of the overpass. It's potluck style. Please consider contributing a snack, food, or water. This way our rally protectors are fed and hydrated during this event*
*The tent will also consists of bins for people to donate gently used clothes that we can ship to our Kanaka on the Mauna*
*Tulalip news will be covering our event with videos and pictures*
*10am protocol will be held in the Haggens parking lot. Tulaip will open with prayer, song and drumming followed by Kau'i with a song, chant, and prayer.*
Aloha my PNW Lāhui (people), we just got word that Tribal Members from Tulalip, Washington will be joining us at morning protocol on Saturday, August 3 and standing with us in solidarity to protect our #SacredLands
Please arrive at 10:00am at the Haggen parking lot (See photo below for more information and look for the crowd with the flags and signs, we can't be missed).
Tulalip will open protocol with drumming and a blessing, followed by a pule (prayer), oli (chant), and mele (song) before we converge together on the overpass. Tulalip TV will be covering our gathering, so if you do NOT want to be on television, please stay clear of the cameras.
Also, a tent will be set up on the rez side of the overpass for food and water, so please consider contributing so everyone has a full 'opu (belly) and remaining hydrated. The weather looks promising thus far with a high 75', but bring your layers and sunscreen just in case.
KING 5 KOMO News KIRO 7 News Q13 FOX The Seattle Times has also been notified of our rally. The more awareness we have on what is happening to our sacred grounds, the more pressure we place on the authorities who can STOP the desecration of our lands.
I Ku Mau Mau (stand together)!!
If you need more information, please reach out to Gerry Ebalaroza or her cousin Absyde-Ann Kaiulani Dacoscos or Kaui Auwae.
Mahalo Piha and we look forward to standing with you on Saturday in support of preserving our Sacred Lands. Kū Kiaʻi Mauna!!! #KapuAloha #AlohaAina #ProtectMaunaKea
UPDATE: We will be collecting the following to send to our Lāhui on the Mauna.
Please donate lightly used (sizes 2x-5x):
Nā lole no Kīʻaʻi ka Mauna
Warm gloves & beanies
Sweatpants & suits
Rain jackets
Beanies - Small, Med, Large
Gloves - Men's and Women - Small, Med, Large
Thermal Under Wear- Small, Med, Large, XL, XXL, XXXL
Scarves - Any size
Socks - Wool or thermal
Winter Jackets - Men's and Women's - L, XL, XXL, XXXL
Ear muffs - OS
Hand warmers
Also rain gear (jacket/pants/ Boots) L, XXL, XXXL
There will be containers at the tent site for your donations. MAHALO!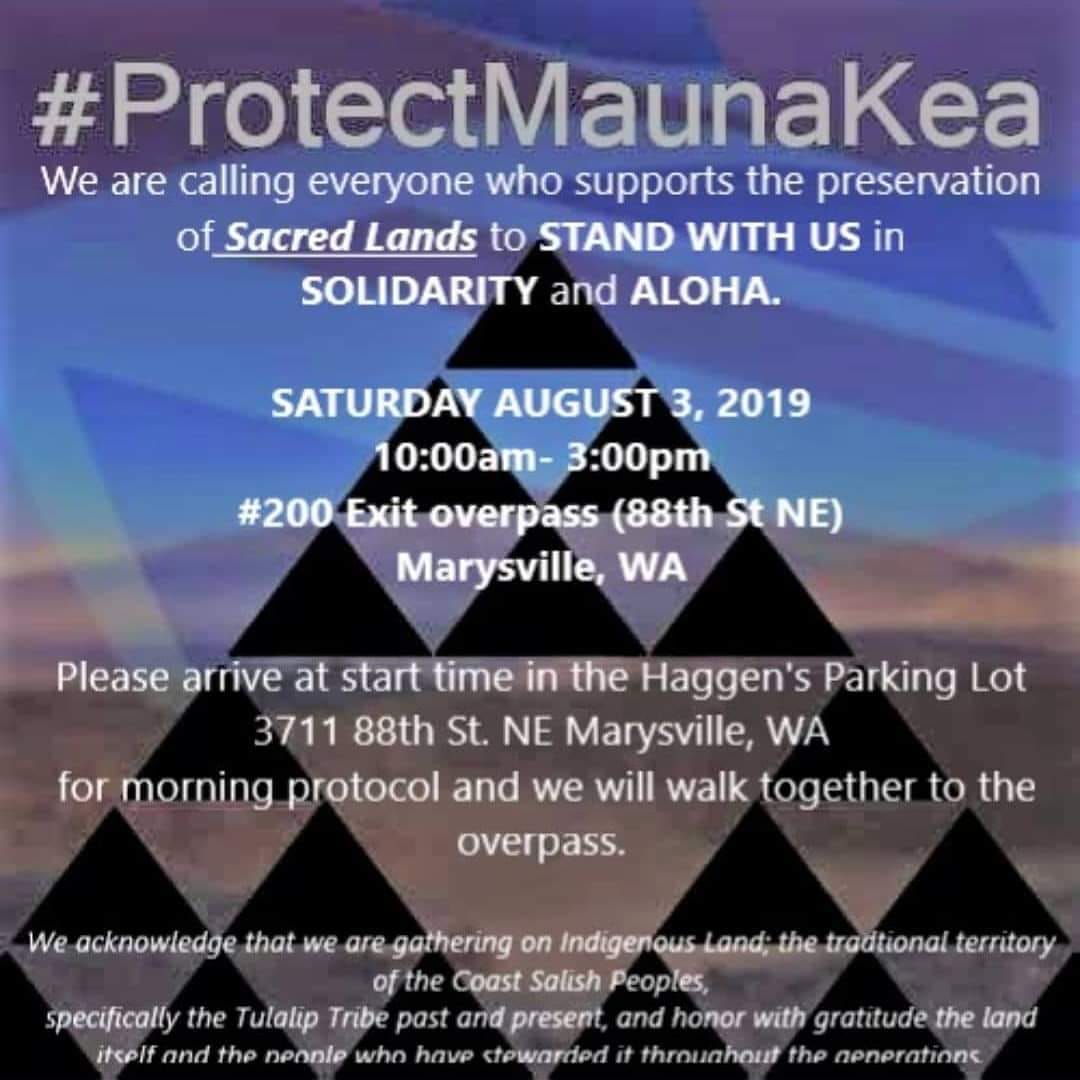 Categories: None